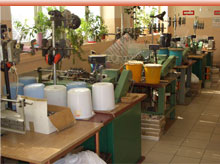 ELEKTROMECHANIKA company has been running an activity since 1990 under the following name:


ELEKTROMECHANIKA
Ryszard ŻACZKIEWICZ
ul. Armii Krajowej 6 A
96-100 SKIERNIEWICE
.
The type of dominating production according to the Polish Activity Classification (PKD-3110A) – is a production of network transformers.
Our transformers meet the requirements of norms PN/EN-61558-1, PN/EN-60065, which are closely connected with Union Directive 73/23LVD.
The transformers are produced in a protective casing in the second security class, marked with .
They can be applied in electric devices, automatics, telecommunication and telecommunication engineering.
We cooperate with the companies from entire Poland, we also sell our transformers abroad in such countries as: France, Russia, Belarus, Ukraine, Slovakia and Czech Republic.
We offer online shopping.
We are well prepared for the production of speaker transformers, and special purpose supressors.
We are open to establish cooperation.
It is possible to produce transformers upon the individual customer's request.
Parameters, construction, date and price to be negotiated.
We offer the competitively low prices, fast realization of your order.
OUR PRODUCTION COVERS THE FOLLOWING TYPES OF TRANSFORMERS:
TS 1
on core fittings
EJ-36
1 VA power
TS 2
on core fittings
EJ-36
1 ÷ 2 VA power
TS 4
on core fittings
EJ-42
3 ÷ 4 VA power
TS 6
on core fittings
EJ-48
5 ÷ 8 VA power
TS 8
on core fittings
EJ-54
9 ÷ 12 VA power
TS 10
on core fittings
EJ-60
13 ÷ 15 VA power
TS 25
on core fittings
EJ-66
16 ÷ 25 VA power
TS 50
on core fittings
EJ-66
21 ÷ 40 VA power
TS 70
on core fittings
EJ-78
60 ÷ 70 VA power
TS 80
on core fittings
EJ-84
70 ÷ 80 VA power
TS 100
on core fittings
EJ-102
90 ÷ 100 VA power
Toroidal Transformers
20 ÷ 500 VA power
And many different special purpose products upon the receiver's needs.